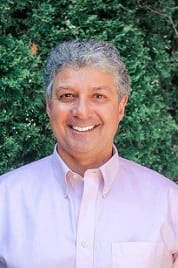 "Our clients are extremely important to us, and we recognize they are in a very difficult moment in their lives.  They have past histories we must come to understand and future lives we must strive to protect.  We are their best, and often only friend and advocate in the complex criminal justice system.  I insist we treat our clients the same way we'd want to treat our family, friends or ourselves if we were in the same situation."
Ted Yoannou was born and raised in Toronto and attended high school at Lawrence Park Collegiate Institute.
He graduated from Mt. Allison University in New Brunswick with a B.A. in English and History and as the Class Valedictorian.
He earned his LL.B from the University of Toronto Law School and worked as a student during those years with Justice for Children and Youth, a legal clinic assisting disadvantaged young people.
He articled on Toronto's Bay Street with one of Canada's largest and leading law firms, McCarthy Tetrault, and soon after began his own practice as a criminal defence lawyer.
"We are a talented group of lawyers and legal assistants that have achieved tremendous results for our clients.
 Excellent lawyers with decades of experience and success.
 Professional and knowledgeable legal assistants.
 Friendly, compassionate service and prompt communications with our clients."
Since 1993, Ted and his office have assisted thousands of clients in virtually all areas of criminal law and driving related offences, including:
Domestic Assault
Assault with Weapon, Assault Causing Bodily Harm
Sexual Assault and other sexual related offences
Theft and Shoplifting
Impaired Driving, Over 80
Dangerous Driving
Careless Driving, Stunt Driving, Fail to Remain
Drive While Suspended, Drive No Insurance
Fraud and Credit Card related offences
Drug possession and trafficking related offences
Weapons related offences
Robbery and Break & Enter
Murder, Manslaughter, Aggravated Assault
Youth offences
Record Suspensions (Pardons)
US Waivers
Applications to Destroy Fingerprints and Photos
And many others
His cases are in courtrooms throughout southern Ontario, including:
The Greater Toronto Area including North York, Etobicoke, Scarborough, Old City Hall, College Park and 311 Jarvis
Simcoe County, including Barrie, Bradford, Collingwood, Midland, Orillia, Wasaga Beach
York Region, including Vaughan, Richmond Hill, Markham, Aurora and Newmarket
Peel and Halton Regions, and Guelph, Kitchener, London, Sarnia and Windsor to the west
Grey County, Bruce County, Muskoka District and areas to the north
Durham County and Cobourg, Lindsay, Peterborough, Bancroft, Belleville, Kingston to the east
Hamilton, Brantford, St. Catharines, Niagara Falls, Welland, Fort Erie and areas to the southwest
"Experience.  Knowledge. Compassion.  This is our winning formula."